Deborah Arnold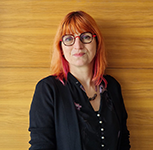 AUNEGe, French Digital University for Management and Economics www.aunege.fr
Edul@b, Universitat Oberta de Catalunya edulab.uoc.edu/en
With over three decades of experience in the field of education and training in Europe, in teaching, management and governance roles, Deborah recently obtained her PhD from Universitat Oberta de Catalunya, focusing on Digital Education Leadership in Higher Education.
Deborah currently works as national and international projects coordinator at AUNEGe, the French digital university for economics and management. In this capacity and in previous roles, Deborah has led or participated in numerous EU projects focusing on the use of media and technology for learning and teaching, and was a founding member of the eLene network. Prior to her position at AUNEGe, Deborah worked as director of studies for a private language training company (1992-2000); audiovisual production assistant and eLearning project manager at Vidéoscop-Université Nancy 2 (2000-2011); and at Université de Bourgogne, first as head of the audiovisual production, learning technology and distance education unit (2012-2017), then as digital strategy advisor at the directorate for digital affairs (2017-2018). She has taught project management and the use of media for learning and teaching on a number of Masters programmes for Université de Bourgogne, Paris Sorbonne Nouvelle and most recently Paris Saclay.
A former Vice-President of EDEN (European Distance and E-learning Network), Deborah is an EDEN Senior Fellow and currently serves as Vice-chair on the EDEN Fellows Council Board and Vice-chair of the EDEN Mentoring Programme. She is Secretary of the Board of the Media and Learning Association, and a member of the Editorial Board of IJELT, the International Journal of Educational and Life Transitions. Deborah is also a member of the steering committee for the Active Learning SIG at ALT (Association for Learning Technology) and a co-convenor of the Universities and Systems Convening group.
Arnold, D. (2022). Supporting Leadership Development in European Universities: A Mixed Methods Study of Digital Education Leadership Literacies in Higher Education. Doctoral thesis, Universitat Oberta de Catalunya.
Arnold, D., & Sangrà, A. (2020). Digital Education Leadership Development for Strategic Change in Higher Education. In V. Wang (Ed.), Educational Leadership: Perspectives, Management and Challenges (pp. 185–214). Nova Science Publishers.
Arnold, D., & Sangrà, A. (2018). Dawn or dusk of the 5th age of research in educational technology? A literature review on (e-)leadership for technology-enhanced learning in higher education (2013-2017). International Journal of Educational Technology in Higher Education, 15(1), 24. https://doi.org/10.1186/s41239-018-0104-3
Sangrà, A., Arnold, D., & Gallifa, J. (2022). Liderazgo Y Tensiones En La Universidad: El Reto De Integrar La Educación Digital. American Journal of Distance Education, 1–14. https://doi.org/10.1080/08923647.2022.2027687
LinkedIn: linkedin.com/in/deborahjarnold/
Twitter: @DebJArnold