Michel Beerens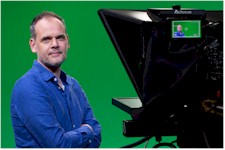 Michel Beerens is the head of the NewMedia Centre, Delft University of Technology, The Netherlands. The NewMedia Centre is the production centre for MOOC videos, and other media formats used in education, science and communications. Examples of these formats are animations, infographics, 360-degree videos and tours, podcasts, web applications and 3D models.
In 2019, Michel established the TU Delft Virtual Reality (VR) Zone were students, teachers and scientists are taught how to produce their own virtual and augmented reality content. The VR Zone also produces content on demand for research and educational purposes.
The NewMedia Centre produced its first MOOC in 2014, and until now 60 more have been produced. With more than a thousand videos a year in our green screen studio and on location, the NewMedia Centre has a vast track record in video production. The centre gives hands on support to clients such as trainings in scripting and presenting. Also, the centre consists of a do-it-yourself production studio.