Doyle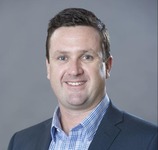 Scott Doyle has been in the higher education and AV industry since 1992, presently he is the AV Manager
at Swinburne University of Technology.
Scott is responsible for all of Swinburne's learning and meeting spaces as well as the AV
infrastructure, support and event teams.
Prior to joining Swinburne Scott worked at Monash University for over 25 years in the Television,
Audiovisual and IT divisions where his focus was on enabling the AV Department and their Supplier
Panel by standardising the learning and meeting space solutions, installation processes and delivery,
and process compliance.
His experiences have led to him to join the AETM, where he has been an Executive Officer of the
association for the past five years, currently sitting as President.
Scott strongly supports workforce development in both his Swinburne and AETM roles; setting the
AVIXA CTS as the minimum achievement for all Swinburne staff working in the AV field.