Leen Van Rentergem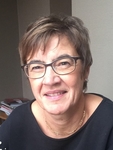 Leen Van Rentergem had a long track record in IT services at KU Leuven. She started as High Performance Computing consultant and broadened her skills and knowledge by leading different teams in The KU Leuven IT department.
She implemented the first learning management service at KU Leuven in 2001 and has since been involved with almost all Ed-Tech projects.
Now she is one of the managers at the central IT service of KU Leuven with a strong focus on services for research and education. She is one of the coordinators of the KU Leuven Learning Lab.