Marie Bellugue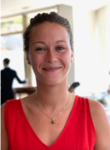 Marie Bellugue, business developer for Kalyzée since July 2020.
After studying business in Paris and working as a partnership manager in the luxury area, I have decided to travel around the world and to live abroad for over 4 years, to understand what is really important to me.
I discovered several countries in Europe, Asia, and South America and I also discovered diving and became a diving instructor
Back in France, I established in Marseille and had the opportunity to join Kalyzée. Kalyzée's mission is to facilitate the dissemination of knowledge in video by offering the best of the new digital video technologies.
My mission is to promote the Kast Revolt camera developed by Kalyzée, an easy-to-use video, recording and live streaming solution for education, trainings and professional events. I feel super grateful to be part of this adventure, providing universities and private companies the right instrument to support them in their digital transformation.