Dr Johannes Binder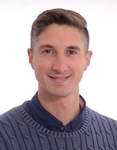 Johannes Binder is a resident physician at the Department for Surgery, University Clinic of the Friedrich-Alexander University Erlangen-Nürnberg (FAU), Germany.
Before his medical career he graduated with a Master of Science in Medical Process Management in 2013. During his studies he was working at Siemens Healthcare GmbH, where he got the chance to experience a brand-new high-tech volume rendering technology called Cinematic Rendering, under instructions of its inventor, Dr. Klaus Engel, Senior Principal Key Expert for Visualization Research. He recently finished his doctor thesis on the use of Cinematic Rendering in Medical Education. He is part of a research group with members from the Department of Anatomy, the Department of Surgery and Siemens Healthcare GmbH. Current research focuses, amongst others, on the integration of mixed reality elements, combined with Cinematic Rendering images, into medical education as well as pre- and intraoperative planning.
Here are some several links to relevant publications by Johannes and his colleagues:
https://pubmed.ncbi.nlm.nih.gov/30586608/
https://pubmed.ncbi.nlm.nih.gov/31141115/
https://pubmed.ncbi.nlm.nih.gov/32521121/
Information about Cinematic Rendering :
https://www.siemens-healthineers.com/de/medical-imaging-it/advanced-visu...