Eftychia Touliou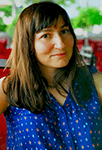 Eftychia Touliou is the Chairperson of the "European School Radio" Organization,
With more than 10 years of teaching experience in primary education, she is a researcher and project development manager on Media Literacy using radio and podcast as an educational tool. She focuses on the design and implementation of numerous projects, co-organized with other public bodies and Ministries of Education, giving students the opportunity to communicate & collaborate, create & produce, cultivate their skills, innovate and, finally, to learn by doing through the radio.
She holds a bachelor's degree in Pedagogy from the University of Patras, Greece, with also post-graduate studies in History of Education and Museum Pedagogy at the same university. She has a Master's degree in Advanced Computer and Communication Systems in the section: "Information and Communication Technologies Application in the Mass Media" from the Aristotle University of Thessaloniki, Greece. Currently, she is Ph.D. candidate in the School of Journalism and Mass Communications at the same university.