Richard Beggs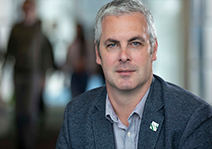 After working as a graphic and interactive designer in design and software agencies in Belfast, Richard started down the educational technology path in 2002 when he began working in BBC NI Education Online and Council for the Curriculum Examinations and Assessment. In 2006 Richard joined Ulster University in their Online Masters team and held various instructional design related posts advising course teams on best practice in online and blended delivery, electronic assessment and feedback and digital enhancement. In September 2017 Richard joined the CHERP team as a Lecturer in Higher Education Practice and is an award lead and a module co-ordinator within Ulster's taught academic enhancement programmes. He is Ulster's lead on the Learning Landscapes project which has an aim of encouraging an active/collaborative approach to learning and teaching. This has been achieved through the design of new learning spaces, the Learning Lab, Active Learning Champions and Student Learning Partners. Richard is an advocate of digital storytelling as an assessment tool and has brought this to Undergrad and Postgrad teaching at Ulster University. He is a Senior Fellow of the Higher Education Academy, a certified member of ALT, a Distinguished Learning and Teaching Support Fellow (Ulster University) and was a shortlisted finalist for ALT's Learning Technologist of the year in both 2017 and 2020 and the Irish Education Awards in 2019 for his Apps for Active Learning initiative. Richard has presented at national conferences in UK and Ireland on flipped learning, apps in education, active learning and digital storytelling and is the Chair of the ALT Active Learning Special Interest Group.
ALT Active Learning SIG page: https://www.alt.ac.uk/groups/special-interest-groups/active-learning-sig
Ulster University's Active Learning resources page: https://www.ulster.ac.uk/cherp/academic-development/resource/learning-la...