Dr Tony Newton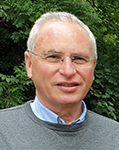 Tony combines a life sciences background with a Doctorate in Business Administration from Durham University Business School, and is a Sloan Fellow of the London Business School.
He has held senior corporate communications positions within FTSE 250 and Nasdaq 100 companies, with responsibilities covering the entire corporate communications and investor relations spectrum.
Tony's science, medicine and technology writing has appeared in The Times, The Independent and numerous lay and specialist publications. He has also broadcast for the BBC, written extensively for the Web and contributed to the interactive touch screen display (and associated CD) for the 'Challenge of Materials' exhibition at the Science Museum, London. His work has been shortlisted for the 'BT Technology Journalist of the Year' award and for 'Aerospace Journalist of the Year'. He has taught networking, negotiation and presentation skills at business schools, corporates and 'not for profits' across the UK and abroad, and is author of 'The Network Effect: A practical guide to making - and keeping - the connections that can make your world go round'.
As a long-standing RAF Reserve Officer and media specialist, he was awarded a Chief of the Air Staff Fellowship to study for a Masters in Medical Law and Ethics at Edinburgh University Law School.
His governance roles have included London mental health charity 'New Directions Camden', President and Board Chair of the Oral Health Foundation, and Chair of Tynedale Talking Newspaper. He has been a public governor of Northumbria Healthcare NHS Foundation Trust and sits as an Expert Member on Newcastle & North Tyneside Research Ethics Committee. He is a Board member of Queen's Hall Arts Centre, Hexham.
Interests include fishing and playing trumpet in the Tyne Valley Big Band, Hexham Brass and the Tweed River Jazz Band, in which he plays some of the right notes, some of the time.