Paul Gale MCIPR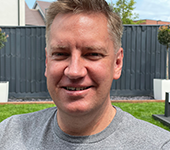 Paul has a background in electronics and educational ICT, having first experienced personal computing helping his father to build a Sinclair ZX80 from a kit of parts in 1980. He worked for Research Machines PLC, a UK education computer company in various roles including networking support, pre-sales support and managing software support teams.
After leaving Research Machines, he setup Silicon Pixel Ltd, a video and animation company and has been making corporate films and working in marketing, public relations and social media for the last 20 years. Paul has held directorships in several other companies and is currently working with a software start-up developing a platform that brings together multimedia content and augmented reality.
With a history of flying with the Royal Air Force Air Cadets as a motor glider instructor, Paul now works as a media officer in the RAF Media Reserves and has worked on key projects such as the RAF 100th anniversary campaign and many other high-profile projects such as the first and second F-35B Lightning (stealth fighter) transatlantic trails. In 2019 he was mobilised to work in Estonia as part of the NATO Baltic Air Policing mission as the media and communications officer. In late 2018, Paul was awarded the Beattie trophy for outstanding journalism and then in October 2019 was awarded Her Majesty's Lord-Lieutenant of Buckinghamshire's reservist of the year.
Paul has enjoyed a large and diverse range of hobbies over the years from fixed and rotary-wing flying, scuba diving to marine fish keeping and home automation.