Mads Ronald Dahl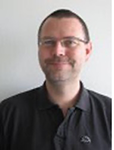 Education: MSc biotechnology, Aarhus University, Denmark. PhD innate immunology, Leicester University, England. MI, Master in Informatics, Aalborg University, Denmark.
Research: currently my research has focus on curriculum development and the usage of technology in relation to higher education, learning analytics, blended learning and mobile technology, data security and digital competencies.
Teaching all levels of audience form public to senior professors and administration.
Educational informatics and curriculum developments at Aarhus University is my main work interest. Making our educations evolve and benefit from didactics, technology and it solutions takes up most of my time. This work can be followed on: www.CED.au.dk.
In the year's to come i will work hard on incorporating digital competency and computational thinking in all levels of our educations at Aarhus University using the DigCompEdu.eu framework.
Specialties:
Educational Informatic
Health informatics
Data security - GDPR
Innate Immunology
Saponification
Computational thinking
Digital literacy