Nawaal Deane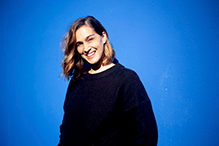 Nawaal manages a team of video producers, digital designers, gaming app developers to produce all video and digital media for UCT's online and blended courses. She has worked on multiple blended courses and produced around 24 Massive Open Online Courses (MOOCS). Currently she also project manages the building and operations of CILT's unique automated video recording studios where the unit has rolled out the concept of a "One Button Studio'' that supports UCT community to make their own digital content. The Digital Media Unit works with the Learning Technologies team to manage all the media on the backend of the Learning Management System. This requires formats that are accessible for students with limited access to data or WIFI.
Nawaal has a Masters in Philosophy in Inclusive Innovation from UCT's Graduate School of Business. Her topic was to focus on how MOOCs can be wrapped to make them more accessible to youth living in marganalised areas. She is passionate about the rights of young people to have acess to Higher Education and sees the One Button Studios as the infrastructure and capacity building to provide UCT students with the access to make their own digital media.
Prior to this position, Nawaal has worked as a journalist and in broadcast media for more than a decade. She has also worked at UCT's Communications and Marketing department unit and other faculties at UCT to launch its YouTube channel and create the university's first digital content.