Danielle Hinton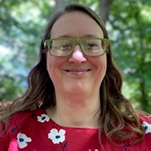 Situated within the Higher Education Futures institute (HEFi), I provide support for the enhancement of teaching and learning practice, promote innovation in the curriculum, and facilitate the career-long professional development of Birmingham academics and professional staff in regards to teaching and supporting learning.
I am particularly interested in active learning (including enquiry and problem based learning), the emotions of learning and teaching, enhancement of learning through technologies, distance learning and serious play in Higher Education.
I am a Senior Fellow of the HEA and a LEGO® SERIOUS PLAY® certified developer & facilitator.