Julia Weißenböck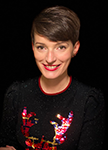 Julia Weißenböck is a teacher from Linz, Austria. She teaches English to lower and upper secondary students, and she also works at the University of Salzburg, where she teach TEFL classes.
She enjoys teaching and tries to plan innovative lessons and integrate different forms of (new) media whenever possible. Additionally, she loves working with tools that make her life as a teacher easier and her work more efficient. As part of her job at the university, she regularly teaches courses like "#digiteach", in which students learn the basics about teaching with digital tools, and other more advanced courses in the Master programme, in which students design their own digital teaching materials.
She also gives talks and holds workshops for in-service teachers across Austria on various topics related to digital tools.