Frank Mc Girr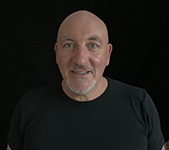 Frank Mc Girr was born in Ireland in 1965. After finishing college in 1987 he moved to London, where he lived for almost twenty years. Before moving to Germany, he completed a CELTA course at St. Giles College in Highgate, London.
He is the founder of vhsteacher.com, a website dedicated to helping English learners advance from simple direct forms of communication (B1), to speaking fluently and spontaneously on a wide variety of topics without much obvious searching for expressions. (C1) The site hosts three courses: Immersive English,The English Language Film Club and the Online Conversation Course. All three combine comprehensive homestudy with classroom/Zoom elements, and were specifically designed to ensure students receive maximum "input" and "output"
In 2010, Frank set up the first English Language Film Club–a weekly course that combines homestudy with watching and talking about classic and modern films in class. With over ten years experience, he is now a leading authority on the use of feature length films in language learning.
He is a regular presence at The Image Conference and member of The German Speakers Association. Frank holds a Fine Art Degree and a Postgraduate Diploma in Photography from Central Saint Martins College of Art.