Deborah Dobbins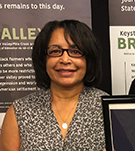 Deborah Dobbins, a cultural and special education consultant and a 3rd generation
African American Albertan. She is the President and CEO of Shiloh Centre for Multicultural Roots
(SCMR), a not-for-profit society founded in 2010 that is grounded in a mosaic of rich, inclusive African American Canadian heritage dating as far back as pre-1910. She holds a B.Ed. from the U of Alberta, an M.R.F.A. from the Friends International
Christian University, California U.S.A, has recently retired from a 34 + year teaching and
administration career in Edmonton, Alberta, Canada. Deborah also sits on several boards including the Aspen Foundation for Labour Education (Edmonton, Alberta) Education Committee and the Coalition for Creating Equity (Alberta) Human Rights Commission of Alberta (Public Rep).