Adel Qaddoumi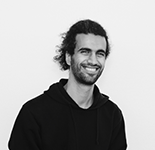 Adel Qaddoumi is an Extended Reality Software Developer at the Centre for Innovation at Leiden University.
With a background in Architecture, Software and Game development, Adel found XR as the perfect medium to combine his expertise and explore novel Human-Computer Interaction techniques.
He has worked on projects spanning a variety of XR technologies before joining the Centre for Innovation, and currently develops applications for the faculties of the University of Leiden. Many of them are 3D medical applications for training students at Leiden University Medical Centre using Virtual and Augmented Reality devices.