Onno Hansen-Staszyński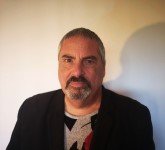 Onno Hansen-Staszyński is an innovator in the fields of (media) education, tackling disinformation, and digital identities.
As chairman of the Ezzev Foundation, co-founder and teacher trainer at the Dynamic Identity Academy (adT), co-initiator and partner of numerous European and Polish projects, and part-time teacher, Onno and his wife pilot, implement, and teach a blend of media education, prophylactics, and media creation. Their main target group is adolescents, and their teachers and parents.
Onno is a member of the Commission Expert Group on tackling disinformation and promoting digital literacy through education and training. Together with Binckhorst Institute (part of the Drog group) he identifies disinformation intervention generations and drafts Interactionist interventions.
Onno co-creates blueprints for digital identity frameworks since 2006.
He is co-initiator and ghostwriter of Commission Pilot Project PPPA-AGEVER-01-2020, the follow-up of which is a pillar in the Commission BIK+ strategy.
In addition, Onno is a filmmaker, and a former journalist, corporate, and artist.