Rebecca Oldfield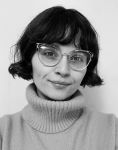 I have a first-class BSc. in Archaeology and Anthropology from the University of Central Lancashire (UCLan) and a professional background in the archaeological, heritage, and higher education sectors. During my degree, I worked alongside UCLan and members of the Tejon Indian Tribe in California to deliver VR workshops which enabled members to experience immersive 3D scans of ancestral Chumash rock art sites. This opportunity piqued my interest in the application of digital technologies in educational contexts.
Since 2020, I have written the Instagram blog Rebecca's Research, documenting my educational journey and creating online content relating to archaeology. In 2022 I hosted and produced the podcast Gradually, a graduate podcast interested in non-linear career trajectories which encourages guests to wholistically reflect on their post-university experiences.
I am currently based at the University of Manchester as an eLearning Support Assistant within the award-winning Humanities eLearning team: since starting this position, I have worked on 3D printing and 3D scanning projects and created training videos for the archaeology department.