Roslyn Kratochvil Moore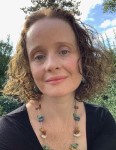 Roslyn is head of the Digital Sphere unit in the Policy and Learning department at DW Akademie where she is responsible for DW Akademie's digital strategy, driving innovation and developing concepts, methodologies, toolkits and networking on thematic topics such as media and information literacy, fact-checking, digital rights and innovation for dialogue.
She has an undergraduate degree in Geography and Development Studies from King's College London (KCL) and London School of Oriental and African Studies (SOAS) and a M.A. in Responsible Management from Steinbeis Hochschule Berlin. Roslyn has over 20 years of experience in international development mainly focusing on education projects. She has lived and worked for many years in India, Kenya and Sudan. Roslyn has been working for DW Akademie specialising in media development, specifically media and information literacy, since 2015 and is based in Bonn.