Stéphanie Vanneste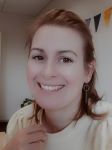 Stéphanie is an educational researcher at itec with 14 years of teaching experience in secondary education.
She worked on the STEAMS project (Supporting TEamwork in AMbient learning Spaces) in which she supported schools to make Collaborative Problem Solving (CPS) – as a goal and as a method – more efficient and was responsible for the dissemination of the project.
Currently she's working on CPS in a virtual setting in the Smart Collaboration Tutor project, a simulation training in Virtual Reality to improve communication skills of medical students.