Ahmed Yousef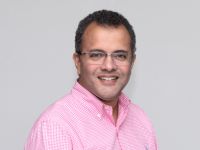 Dr. Yousof focuses on leveraging the power of technology to promote physical, cultural, and socio-economic inclusivity. Born and raised in Belgium and with experience in the Middle East, he brings a unique global perspective to his work as an assistant professor of Art, Media, and Instructional Design at East Stroudsburg University of Pennsylvania (USA).
In his role as an assistant professor, Dr. Yousof provides students with hands-on opportunities to learn and apply innovative technologies through courses on VR, multimedia design, and digital publishing for education. His research focuses on developing effective computer-mediated and XR instructional approaches that address diverse learning needs and create dynamic, inclusive learning environments.
With a passion for diversity and technology, Dr. Yousof is dedicated to advancing the field of education and empowering all learners to reach their full potential. By exploring the instructional design of XR, he demonstrates how disruptive technology can contribute to better knowledge development and a more inclusive educational experience.